ACTIVITIES
Fishing.

The Taylor Creek cabins are located on the Frying Pan Road next to the Frying Pan River. The cabins are situated at the confluence of Taylor Creek and the Frying Pan River.

The Frying Pan River and the Roaring Fork River have both been designated as Gold Medal rivers by the Colorado Division of Wildlife. To be designated a Gold Medal River the river must contain 60 pounds of trout per acre foot and 12 trout per acre foot that measure 14 inches or longer. One report on the Frying Pan River below Ruedi reservoir indicated that there are 1,100 pounds of trout per acre-foot in that area. This constitutes World-Class trout fishing!!

Taylor Creek Cabins are owned and operated by Frying Pan Anglers of Basalt. Frying Pan Anglers, is a full service fly shop and guiding service and we have all of your needs for a fulfilling fishing trip in our area whether it is a float on the Roaring Fork or the Colorado or a great wade trip on any of the waters in our area.

If you are up here without fly fishing gear Frying Pan Anglers have a great range of fly fishing equipment priced very reasonably.

Frying Pan Anglers can be contacted by phone on (970) 927 3441 or by email at report@fryingpananglers.com

For more details and all your local fishing requirements go to www.fryingpananglers.com.

If you have not fished the Frying Pan before, you might find it useful to read the archived material on the Frying Pan website to give you an insight into the river. The fishing can be fantastic but it is good to know where to start. We want you to have a great trip. Don't estimate to ask for assistance.
Hunting.
The area is a prime location for deer and elk hunting during the autumn being adjacent to the White River National forest.

Frying Pan Anglers carries a modest range of hunting supplies including a respectable range of ammunition including rifle and pistol cartridges and shotshells. At Lake Cristine just out of Basalt there is a public shooting range which accommodates skeet, rifle and pistol shooting.

There are also opportunities to go pheasant and chukar shooting within 1.5 hours from the cabins. Click here.

Ruedi Reservoir and Water sports.
Taylor Creek cabins are 8 miles from Ruedi Reservoir, a local mecca for water sports in the warmer months. Ruedi Reservoir boasts 997 acres of water for recreation and is proximate to the White River National forest. The reservoir is easily accessible via the paved Frying Pan road. During the warmer months the reservoir, accommodates boating, yachting, water skiing fishing and swimming.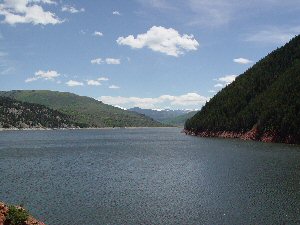 Skiing.
Taylor Creek is 20 miles from the Aspen Snowmass ski area. The 4 laning of highway 82 has been completed giving fast and efficient access from Basalt to this premier ski area.

The location of the cabins is perfectly suited to those skiers who are happy to take in a few turns on the slopes and then fit in a few days winter fishing. The winter fishing is excellent. Check out some of the photographs on the Frying Pan Anglers website. Given the proximity to the ski area the cabins provide incredible accommodation value.

Aspen, Snowmass - say no more!! In addition the cabins also afford access to cross country ski areas as well as the Sunlight Ski area near Glenwood Springs.

Furthermore, being a lower elevation than Aspen/Snowmass, spring arrives earlier down valley! For more details on the aspen snowmass ski area visit www.aspensnowmass.com
Backcountry Skiing.
The cabins are located in a great area for access to back country skiing and the 10th Mountain network. More details are available at this link.