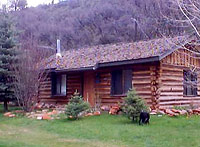 Early Spring view - see other
photos
Colorado Cabin rental in the Rockies.
(Owned and operated by Frying Pan Anglers)
****************
Was one of your dreams to rent a cabin in Colorado in the Rcky Mountains?

This is your chance. This is an ideal short-term cabin rental in Colorado in the Rocky Mountains at 7000-feet elevation 5.7 miles from Basalt and 20 miles from Aspen. This Colorado cabin rental opportunity is located on the Frying Pan Road at the confluence of the Frying Pan River and Taylor Creek. They are proximate to the White River National forest.
There is a range of all year Colorado outdoor activities available from the cabins depending upon your desires and the time you rent. Access is via the Frying Pan paved road which is accessible all year. Although four-wheel drive is to be preferred in Colorado's snowy and icy conditions, it is rarely necessary for access to the cabins. The location of the cabins permits access to the range of typical Colorado activities noted below. There is immediate walking access to the Frying Pan River from the cabins for some great Colorado fly fishing. Those who rent a cabin have priority access to this private great fly fishing water.

The cabins for rent are fully self-contained. Each cabin has 2 bedrooms. One has a queen size bed and the other bedroom has 2 single beds. See the photos. In addition there is a pull-out couch in the lounge area which can sleep an additional person. There is a full kitchen. It is complete with full size refrigerator, stove, microwave, coffee machine, toaster and all of the other utensils and devices to make it a home away from home. The ample living area has satellite television and land line telephone. If you always wanted to rent a cabin in Colorado this your opportunity. This is a great Colorado cabin rental in the Rockies!
Additional Log House
In addition to our cabins, we now have a log house available. Take a look at the photos in our photo gallery. The log house and accompanying cabin has 3 bedrooms and 2 bathrooms. It will comfortably accomodate 6 people. Refer to our rates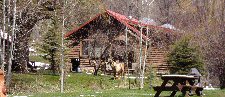 Additional small cabin
In 2010 we opened up a small cabin next to the other 4 cabins. It is exceedingly small and comfortably fits only 1 person with a queen bed. We are now getting inquiries for people thinking that they can fit 2 people and a child. Don't bother asking. If we could fit more we would do so because it would be good for business. But we don't because it won't work.